March 5, 2017 - Aug. 20, 2017
A Seminar on the Arts at CAMP
August 5-7, 2017
Inviting participants, from any background and from anywhere if you can manage travel to Mumbai, to be part of this event through its duration. We will organise in cases of need, accommodation and travel support within India for 3-4 people. There is no fee for participation.


APPLICATIONS ARE NOW CLOSED. List of participants is below: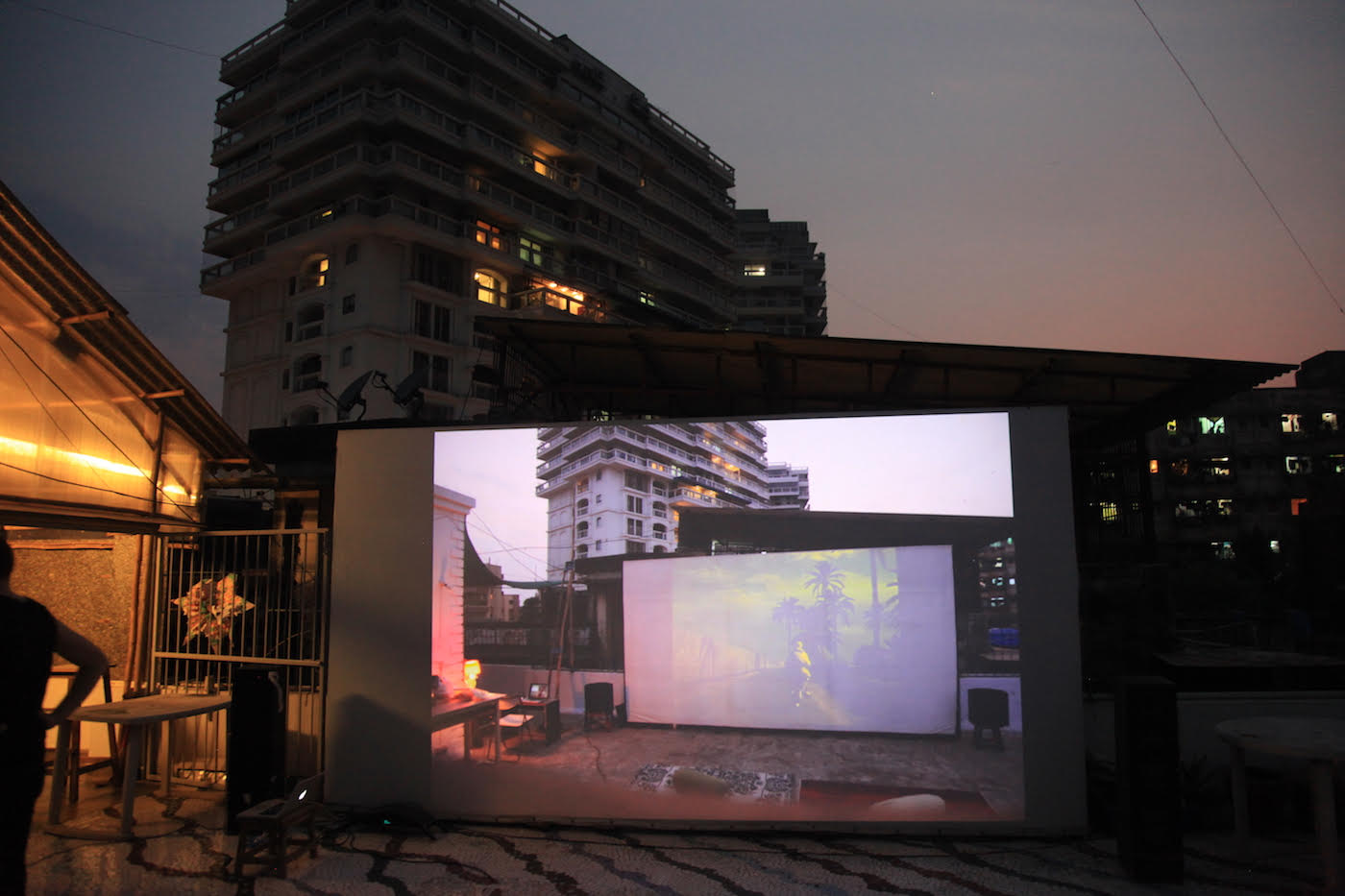 Dear all,

We warmly invite you to a 3-day seminar on contemporary artistic practices (including but not limited to film, writing, new media and public art forms) and its relation to structures of society and the environment more broadly. Art is framed here as a deliberate movement between our sensorium and systems of expression, maintenance or production, between what you could call the frontend and the backend, fabulation and machination, leakage and the network. At stake is the linking and unlinking of these levels, a vertical possibility we find in art, and which gives depth to many horizontal questions of "how to work together", or what care, experimentation and multi-disciplinarity mean as cultural ideals. This event wants to share with a group some of the powers of art in this dimension, in its most ambitious forms, in our context.

In 1934, the pragmatist philosopher John Dewey wrote "Art as Experience". Dewey is better known in India as Bhimrao Ambedkar's main intellectual mentor at Columbia university, about whom Ambedkar is quoted as saying, "if Dewey died, I could reproduce every lecture verbatim...". And whose writings, especially about education, Ambedkar is known to have quoted in his own, often without quotation marks. Dewey's book on aesthetics is a philosophical text about how the environment roots ordinary experience, which artists then adapt to produce experiences that are moments of concentration, autonomous zones. Yet they are in continuity (one of Dewey's key ideas) or osmosis with the environment, and in continuity with democracy itself as an experience.

We suggest aesthetic experience is doing similar work today, even though art theory largely moved away from it in the past century. The libidinal rise of islamophobia, misogyny and online trolling for example, point to something else that is happening within the category of experience. So what is this continuity today, what is it made of, and what makes for a break? Is it a matter of process, technology or historical epoch? This question, which formally mirrors montage in film, distraction on the internet, and alienation in political theory among other things, is a way of asking what kind of break or story art produces, in relation to its environment. To insist on experience as a measure of art, is to say that art is really, a practice of modifying cognitive structures of reality. It cannot do this by thought alone, but by making, which involves infrastructure.
Infrastructure (a term CAMP has used in relation to art since 2007) is at first the practical and literal environment: in which social structures, art spaces, homes, libraries, families, websites, bodies and forests, become breeding grounds for new ideas and tools, and ways to sustain them. Or, to suppress them. These environments fertilise or poison our ideas, hold and push us "from below", as much as their content does. In what ways? Our encyclopaedia of infrastructure today can be zoomed in to things like "the computer"; a medium in which we all work, but then we are also immediately thrown into a "digital world" full of "digital work", and bodies that will want or suffer as a result. There is an intersection of scales in infrastructure today, much like in an urban setting which intersects with both international logistics and structures of the smallest communities. As we live in and breathe this mix, the question of infrastructure can be turned to practical questions for our future, such as: If the museum or art school in our context is largely irrelevant to the development of art, what else sustains it? What is it like to be a cultural worker today, in relation to the varied dimensions of work in a city like ours? What infrastructures will be required to make a human society experience ecological or historical phenomena that involve them only remotely? What about VR, Cuckoo Club and Facebook? Will it become necessary that many infrastructures are hidden? What infrastructures will be needed in the near future, if the goal is neither a symbolic front-end of revolutionary art, nor an access portal for super elites? In this framing, art is a probe that connects experience and infrastructure in sometimes courageous and inventive ways, and makes demands on both. Some of CAMP's people will provide the framing for Day 1. On Day 2, the terms E & I are exchanged such that experiences of other individuals and groups become the basis for making provocations, and become platforms to leap from. Day 3 will be determined by the group.
Selected participants in alphabetical order:
Aastha Chauhan, artist, teacher at Ambedkar and now at Srishti
Bhaskar Hazarika, research scholar at Shantiniketan, performance artist
Faiza Ahmad Khan, Bombay-based documentary filmmaker
Krupa Desai, researcher at JNU earlier at TISS, works on the experience of caste
Mohit Kaycee, lives and works near Kolar with a collective inspired by a poet
Naresh Kumar, artist recently moved from Europe to Bombay
Paulami Roychoudhary, experience/ UI designer and artist, studied at Srishti
Prachi Kulkarni, studies education at Azim Premji, also curates
Prashant Parvataneni, writer and cinephile
Prerna Bishnoi, artist recently completed MFA at Trondheim
Priyanka D'Souza, artist at Baroda, works with fiction and miniatures
Saviya Lopes, artist and organiser, Clark House Initiative
Shiva Gor, artist works with textiles and other media exploring Banjara culture
Shruthi Menon, writes among other things on Kathakali
Skye Arundhati Thomas, critic and writer for artforum, e-flux
Smita Rajmane, artist studied at Shiv Nadar
Sourav Roy, researcher and bibliophile, studied at JNU
Tanima Sharma, theatre and film maker doing an Anthropology PhD at Chicago
Vinit Dharia, architect and researcher currently at SEA
Zeenat Nagree, writer and curator, studied at the Art Institute Chicago
Schedule
PROGRAM:
Day 1: from 10 am at CAMP
Tea.
Morning Case studies:
1. Simpreet Singh: Annabhau Sathe in Mumbai: writing that transforms a milieu.
2. Shaina Anand: Sampling film history, and triangulated gatherings called artist films, in this century.
3. Ashok Sukumaran: The craft of working with others, and 5 theses on infrastructure
Lunch
4. CAMP_bot: Automated playlist with continuity algorithm.
Afternoon discussion with participants. Participants prepare questions that we will attempt to collectively respond to, over the course but also explicitly on the 3rd day.
6:00 pm, Proximity Lesson part 1: The Chuim neighbourhood CCTV experience.
Day 2: from 10 am, at Bandra venue
Short histories of 30 minutes each with a proposal for the present, followed by 20 minutes discussion.
1. Denzil Saldhana on cultural forces in social transformation, in Thane
2. Hussain Indorewala on subverting subaltern shibboleths
3. Nancy Adajania on a regionally inflected "organic intellectual", as well as "pedagogy of the oppressed"
4. Prabodh Parikh on homesickness for world culture

Lunch
5. Kamal Swaroop on film geographies
6. Danish Husain on narrative as a technique of perspective
7. Anand Gandhi and Memesys on science
8. Clark House members on support, and artist itineraries
Evening event, Proximity Lesson part 2: Party, at CAMP roof
Day 3: from 11 am, at CAMP
discussion and development of responses to our question set, with participants.
Close by 6 pm.