CAMP
Short Biography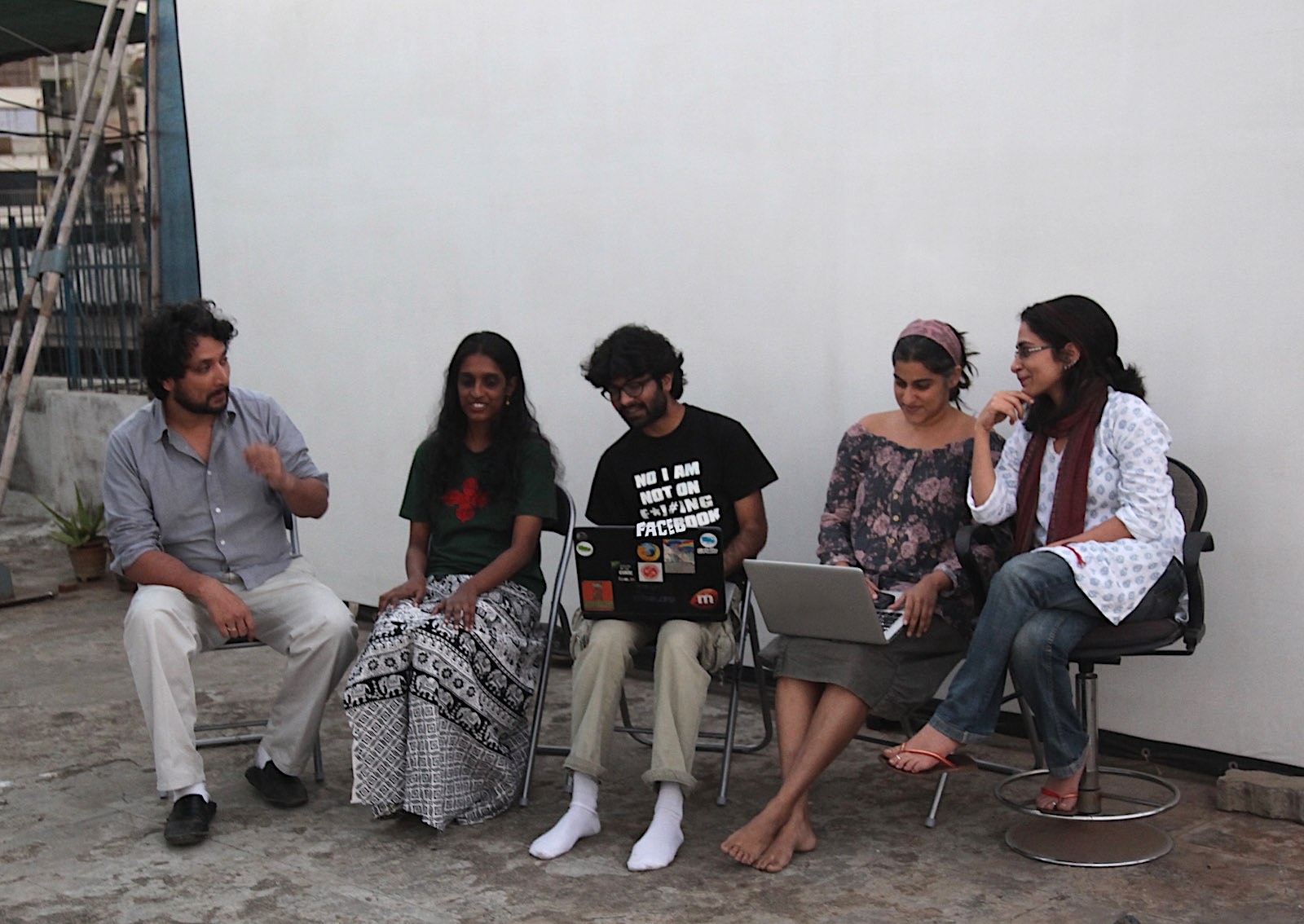 CAMP people, 2011
CAMP is a collaborative studio founded in Bombay in 2007. It has been producing fundamental new work in film and video, electronic media, and public art forms, in a practice characterised by a hand-dirtying, non-alienated relation to technology. CAMP's projects have entered many modern social and technical assemblies: Energy, communication, transport and surveillance systems, ports, ships, archives – things much larger than itself. These are shown as unstable, leaky, and contestable "technology", in the ultimate sense of not having a fixed-function or destiny, making them both a medium and stage for artistic activity.
From their home base in Mumbai, they co-host the online archives ​pad.ma (est. 2008) and ​indiancine.ma (est. 2013) and run a rooftop cinema for the past 15 years.
CAMP's artworks have been exhibited worldwide, including recent solos at the Sharjah Art Foundation, (2022) and the Nam June Paik Art Center (2021), Argos Center for Art and Media, Brussels, and the De Appel Gallery, Amsterdam (2019); at Skulptur Projekte Münster (2017), Documenta 13 (2012) and Documenta 14 film program (2017), in the streets and markets of Bangalore, San Jose, Dakar, Mexico City, Jerusalem, Kolkata, Kabul, Delhi, Ljubljana and Bombay; in the biennials of Shanghai, Sharjah, Gwangju, Taipei, Singapore, Liverpool, Chicago, Lahore and Kochi-Muziris; at film platforms like the BFI London Film Festival, Viennale, FID Marseille, Flaherty Seminar and the Anthology Film Archives, and in art institutions such as Khoj, Sarai-CSDS, KNMA, Lalit Kala Akademi and NGMA New Delhi, Dr Bhau Daji Lad Museum, Bombay, MoMA, New Museum, Queens Museum and e-flux New York, Tate Modern, Serpentine Galleries, and Gasworks London, HKW Berlin, Ars Electronica, Linz, MoMA Warsaw, Ashkal Alwan Beirut, Palestinian Museum, Birzeit, M+ Hongkong, SeMA, Seoul Museum of Art, Art Jameel, Dubai to name a few. In October 2020 they were awarded the 7th Nam June Paik Centre Prize.
Overview and Guide to Website
CAMP are interested in ecology-shifting interventions and experiments in technologies of our time, which are now embedded in different worldly forms. As a group of five people, with many long-term collaborators, our practice produces artworks (in a more or less traditional sense), but also long duration and often large scale ongoing experiments. We could link to three related areas of practice: artworks, projects and events, which are not separated in reality but are rather a navigational method, like in our website:
Artworks are usually films, installations and other forms that were shown in art or public art contexts, You can find a number of them here, with usually a lot of images, some links to reviews and related material. Major Works

Examples:
In Cameras Res, recent automated CCTV work in Amsterdam, with a short interview with CAMP: And related CCTV works from an almost 15-year history. A ten minute video clip of one screen can be : viewed here.

A Photogenetic Line, a linear parse/cutting through large photo archives, a form of proto- or post- cinema: Relates to a number of works with video archives, and digitality/ digitising, see Projects below. Video walkthrough with commentary is here.

The maritime film From Gulf to Gulf to Gulf. And related multi-year project and book, Wharfage. Full film at 720p is here. Or watch a 4 minute trailer.
Projects are usually long-duration, often collaborative endeavours. They may generate multiple artworks or may be seen as an artwork in itself. These are often collaborative and wish to expand the scope of artistic ideas and go beyond authorship. A list is here: Projects.
Examples:

Pad.ma a densely annotated video footage collection, now consisting of about 2000 hours of material. We have run this collaboratively as a platform since 2007.

Ghar Mein Shaher Hona, a 6-hour multipart history of housing in Bombay/Mumbai, via assembled archive fragments, presented as an archive-linked movie via the pause button. Related to ongoing local projects in Mumbai city, and as an example of how to use Pad.ma.

Indiancine.ma an encyclopedic archive of Indian film, today probably the best of its kind, run collaboratively with other groups since 2013.
Events are things we organise or participate in, a full list is here. They have often involved our studio space being opened to the public.
Examples:
Live and impromptu events such as this CCTV "movie" performed from our rooftop. Evening Landscape from the Control Room.

Curatorial intervention into Mumbai's main film festival, a program called The New Medium. Also physically transforming the cinemas.

Video-lecture format that we have honed over many years at our own rooftop space, for example at Tate Modern (on hidden cameras) and at HKW Berlin (on sting operations and narrative truth).